At TSE, we specialize in custom conveyor components. Utilizing Ultra High Molecular Weight (UHMW) polyethylene from Duro-Glide® Polymer Sheets, we make a variety of custom high-performance uhmw replacement parts that keep industries moving.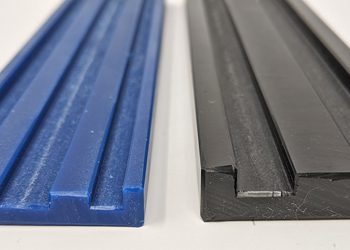 Chain Tracks
We offer made-to-order plastic chain tracks in several styles, as well as a variety of pre-made forms:
Corner Tracks Standard: TableTop® Chain (Tab)
Corner Tracks Bevel: TableTop® Chain
Corner Tracks Two-Piece: TableTop® Chain (Tab & Bevel Style)
Custom Tracks: Single Lane Tab, Single Lane Bevel, Multi-Lane Tab
Use our Chain Tracks Buyers Guide to help you select the best option for your needs.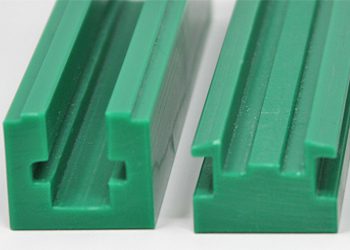 Chain Guides
We offer a full line of machined plastic Chain Guides designed to carry roller chains over a smooth surface. The material of choice is UHMW for its quiet operation with no need for lubrication and long life. Plastic chain guides come in a variety of configurations and materials.
We also offer a selection of standard and locking guide rails, as well as thermoplastic and universal guide rail brackets.
Natural 1000
Formulation Code W
Virgin UHMW

Basic material selection for curves

FDA compliant
White 925
Formulation Code HT
Enhanced UHMW

High-temperature material

FDA compliant
Gray 703
Formulation Code GL
Enhanced UHMW

Lubricated with wear properties

FDA compliant
Black 931
Formulation Code SR
Enhanced UHMW

Static reduced material

FDA compliant
Black
Formulation Code BR
Reprocessed UHMW

Proprietary formula

R90
Black
Formulation Code MD
Moly filled Nylon

Best material for maximum speeds and loads
Brown 845
Formulation Code BL
Enhanced UHMW

Lubricated with wear properties

FDA compliant
Green 675
Formulation Code GF
Enhanced UHMW

Great abrasion resistance

Glass-filled for special applications
Questions? We've Got Answers!
Need advice from a knowledgeable subject matter expert? Want to know more about the services, equipment, or capabilities TSE offers? We can answer any questions you might have. Contact us today!