At TSE, we specialize in custom conveyor components. Utilizing ultra-high molecular weight polyethylene from Duro-Glide® Polymer Sheets, we make a variety of custom plastic chain tracks and guides that keep industries moving.
Our fabricated plastic tracks and guides come in a variety of UHMW formulations, which are based on your specific requirements. Other material options like HDPE, Acetal, and Nylon are available upon request.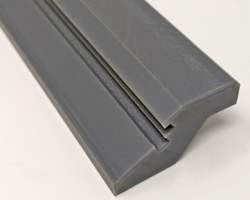 | Formulation Code | Material Color | Properties |
| --- | --- | --- |
| W | Natural (1000) | Virgin, basic material selection for curves, FDA compliant |
| GL | Gray (703) | Enhanced, lubricated with wear properties, FDA compliant |
| BL | Brown (845) | Enhanced, Oil-filled with wear properties, FDA compliant |
| SR | Black (931) | Enhanced, static reduced, FDA compliant |
| BR | Black | Reprocessed, TSE special formula, R90 |
| HT | White (925) | Enhanced, Hi-Temp, FDA compliant |
| GF | Green (675) | Enhanced, Glass-filled for special applications |
| MD | Black | Moly filled Nylon for maximum speeds and loads |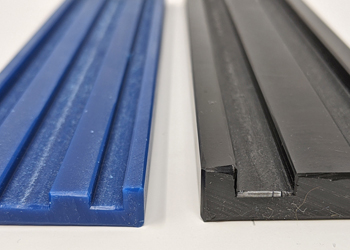 Chain Tracks
We offer made-to-order plastic chain tracks in several styles, as well as a variety of pre-made forms:
Corner Tracks Standard: TableTop® Chain (Tab)
Corner Tracks Bevel: TableTop® Chain
Corner Tracks Two-Piece: TableTop® Chain (Tab & Bevel Style)
Custom Tracks: Single Lane Tab, Single Lane Bevel, Multi Lane Tab
Use our Chain Tracks Buyers Guide to help you select the best option for your needs.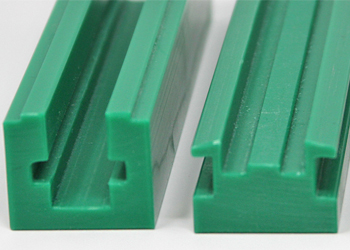 Chain Guides
TSE offers a full line of machined plastic Chain Guides. These are designed to carry roller chain over a smooth surface. Plastic is the material of choice for quiet operation with no need for lubrication … and long life. TSE plastic chain guides come in a variety of configurations and materials.
We also offer a selection of standard and locking guide rails, as well as thermoplastic and universal guide rail brackets.

Questions? We've got answers.
Need advice from a knowledgeable subject matter expert? Want to know more about the services, equipment, or capabilities TSE offers? We can answer any questions you might have. Contact us today!